Get The Best Prices & Service On Over A Million Items Guaranteed
When it comes to the best place to get your riding gear, nobody beats Riders Discount. The only thing keeping us off of our bikes right now is helping you get the most out of yours. We have apparel, parts, and all sorts of gear to make any rider's heart skip a beat. With licensed racers on staff, we know riding. That's how we bring you unparalleled service, knowledge & product variety. Call us at 1-866-931-6644 M-F 10AM - 6PM EST or order online any time for guaranteed low prices on major brand gear, apparel & parts.
What Makes Riders Discount The Best?
We love what we do, and what we do is give awesome service! Call us and get expert answers to all of your gear questions.
Get Free shipping on all orders in the continental US with no minimum order? Yeah, we do that. Alaska, Hawaii, and the protectorates are covered for $19.95 flat.
Low cost international shipping? Yep we do that too, and if the order is over $400 it's free international shipping. See our shipping page for full details.
Not only that, but we'll beat anybody's price. All you have to do is let us know about a lower price online and you can put the savings in your gas tank and ride. See terms for details.
Risk free exchanges? You bet. If your package is defective or contains incorrect items, we'll exchange and cover all shipping costs. Wrong size or simply changed your mind? No problem. We'll still cover you as long as you ship the original item back to us. Visit our returns page for details.
Our Mission
To provide the best customer service for the powersports enthusiast. We build, ride and race a wide variety of motorcycles to better understand the needs of our customers. No one else in the business does it like Riders Discount!
Our Story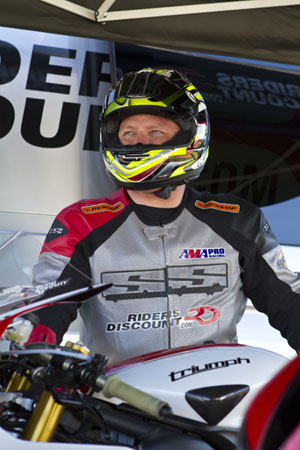 Brian Gibson - President/CEO
What makes Riders Discount unique? Well how about the fact that our business was built by actual powersport riders and racers? That's right, our founder and CEO, Brian Gibson, raced in AMA events with the best of them. Riders Discount is still in the racing game, currently supporting the Riders Discount Triumph Race Team, but the team and the company started with the CEO racing professionally back in 2005.
Brian's last race was the Mid-Ohio 2000 Horizon. He planned to race the National in the 250GP class, but suffered injuries from a high side accident that shot down those aspirations. It was in that hospital bed that Brian began looking for new career options.
At the time, he was still working for Circuit City as a top salesman on a commission program. However, the company decided to move in a different direction cutting commission and turning all employees over to hourly pay. Brian knew he would not get by with such a drastic pay cut so he started to work out of his basement combining his passion for riding and experience in sales to start his very own company.
Brian started by selling overstock merchandise from dealers and shop owners he personally knew. In 2005, he decided to take his small business from a basement to a full blown company that now has nearly 30 employees and its very own race team, which took first place in the 2014 Daytona 200. Brian's business has been so successful because of his passion, he came from the track, and because of that gives every aspect of his company a personal touch.
At Riders Discount we look for employees who are as passionate about powersports as you. You can always count on Riders Discount to deliver outstanding customer service from a staff that knows what it's like to ride like the wind. It's every staff members' personal goal to bring you the best possible shopping experience and provide you with the utmost excellency in customer service.
Riders Discount came from racing and maintaining our personal passion as a primary focus is what makes us different from our competitors. We want you to enjoy your ride as much as we enjoy ours. We're a team of riders on and off the track and we know that riding isn't just a hobby or a sport, it's a way of life. Riders Discount has come a long way from it's humble beginnings and we would like to thank all of our loyal customers for taking us from a lonely basement to a distribution center that ships all over the world. We promise that if you continue to ride we'll continue to help you fuel your ride in every way possible.